---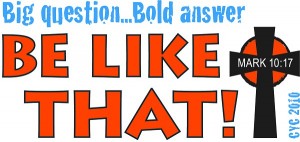 BE LIKE THAT
(pop/rock)
how can we get to heaven?
We wrote this song to be the theme for the Diocese of Portland (Maine) 2010 Youth Conference. It is derived from the bible passage where the man asks Jesus what he must do to get to heaven.
---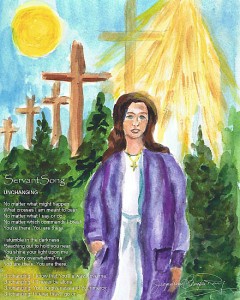 UNCHANGING
(pop/rock)
God's love for you never wavers
The origin of this one is pretty simple. The Franciscan University of Steubenville asks songwriters to submit entries as they select one each year to be the theme song of their Youth conferences. This was an entry. They gave guidelines which I drew from for inspiration.
---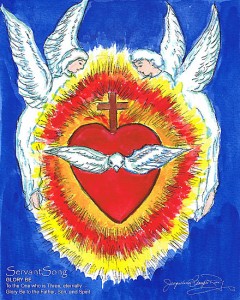 GLORY BE
(pop/rock)
all glory be to the Father, the Son, and the Holy Spirit, AMEN!
I sort of have songs in my head each time I say spoken prayers like the "Hail Mary" and "Our Father" but never had one for the "Glory Be" — so I wrote one. I wrote about the Father in the first verse, Son in the second, and Holy Spirit in the bridge.
---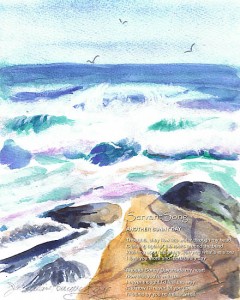 ANOTHER SUNNY DAY
(pop/rock)
all days are sunny when your heart is right with God
In a bizarre twist, this one came to me during a silent retreat one weekend while attending the Franciscan University of Steubenville. The Biblical theme of Martha and Mary, one rushing around while Jesus visits and the other sitting at his feet, is carried through in this song.
---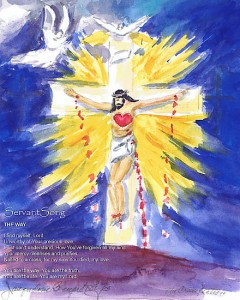 THE WAY
(pop/rock)
true love is hard to describe with mere words
This song is simply inspired by Jesus being the Way, the Truth, and the Life.
---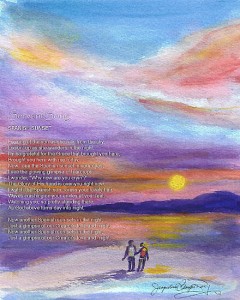 SPANISH SUNSET
(light rock)
the beauty of God surrounds us in daily wonders like sunsets
My first experience with the Franciscan University of Steubenville as a student was actually overseas at their Austria campus. I spent one weekend in a small Spanish beach town named Sitges, about a half hour south of Barcelona. The sunsets there were amazing — an example of God's amazing handiwork seen in so many ways in our natural environment. My friend Jim Moran came up with the idea of the man and woman on the beach together to accentuate the theme.
---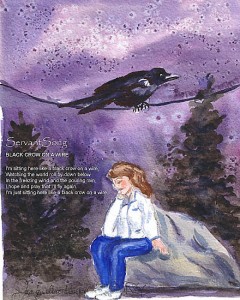 BLACK CROW ON A WIRE
(rock)
you need to take action to further your relationship with God
Right around the time when I was really starting to get into my Catholic faith, I had a friend who just seemed stuck in a rut with his faith, claiming he believed but doing nothing to act on it. I wrote this song in his voice. The black crow imagery came to me as I drove back and forth from the Washington, DC, area out to Steubenville, OH, often. I'd see all the birds up on the telephone wires. The relation between them just sitting there and my friend in his rut.
---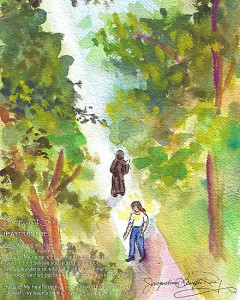 HEART'S ON FIRE
(rock)
sometimes just a chance encounter sparks a deepening of faith
Again inspired by Europe, I actually did walk the streets where St. Francis walked in Assissi, which prompted me to write this song.
---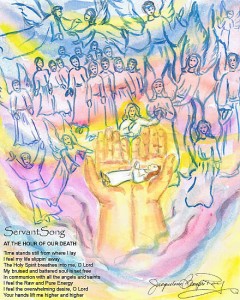 AT THE HOUR OF OUR DEATH
(power ballad)
a glimpse of heaven
Nothing fancy here. The phrase comes the "Hail Mary," and I expanded on the thought of what it actually might be like at the moment of our death. My favorite lyric I've ever written lies in this song — "The broken shackles of humanity cannot compare to what lies ahead." Jim Moran is actually responsible for the "Na Na" melody. He had that in his head for a long time but never really had anywhere to put it. It seemed like a natural fit in this song to me as the choir of angels in heaven beckoning us to join them while at the same point giving a sense of uncertainty as we leave the world we've known all our lives.
---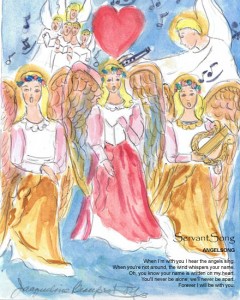 ANGELSONG
(pop/rock)
a promise of unconditional love
This song explores the feelings I had when I wrote it, being engaged to my now wife.
---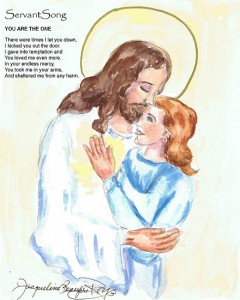 YOU ARE THE ONE
(pop/rock; almost country)
God forgives all of our sins
This one really revolves around the Sacrament of confession. Jesus is the only one who can really pardon our sins. It sort of doubles as a man/woman love song, too, if you take it that way.
---
We are gathering testimonials to help boost album sales, so please, if you have something positive to say about the music, EMAIL US.